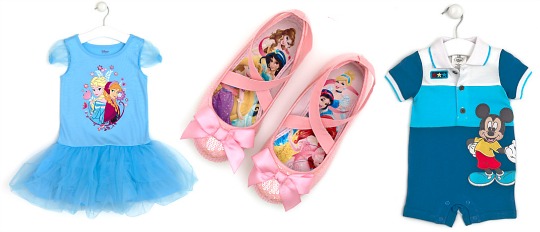 The Disney Store have just started a mid-season sale, with up to 50% off both online and in store, and there are some great buys that are going to be snapped up very quickly! Although the sale is supposed to be half price, there are some things with around 60-70% off, so it's worth a good look.
This sale actually includes Frozen! So often Disney exclude Frozen items that it's a nice surprise when they are reduced. There is a nightdress half price at £7.49, a beautiful embroidered top for £7.39, pyjamas for £9.39 and a see through brolly for £7.49.
Items start from 99p and there are more than 140 things to choose from in the sale. There's clothing, toys, accessories, stationery, footwear and more. The baby clothes are especially cute, and are really good value as well.
Remember to add the £4.95 delivery charge (ouch!) when you are ordering online, or you could head to your local store and see if they have what you want in stock.