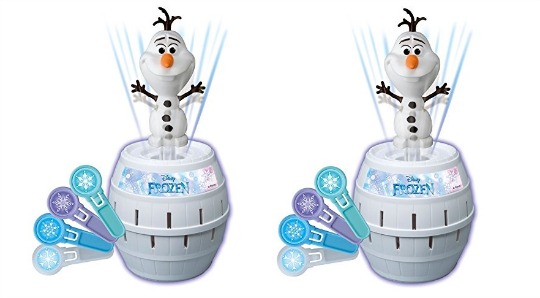 A few weeks ago Nada told us about the new Frozen version of Pop-Up Pirate which is coming to the UK this spring. Pop-Up Olaf will be for sale in March, but when Smyths became the first store to take pre-orders there was a bit of a frenzy!
Now you can pre-order from a choice of stores, and most are around the RRP of £17. Game Seek are taking pre-orders at £12 plus £2.99 postage and packing, BUT you will have to wait for May for their stock! So it really depends on when you want to get the toy. Here's the links for you to pre-order:
I'd be tempted to choose Amazon as they will get stock first on March 6th, and they are charging £16.99 with Free Delivery, but the choice is yours.
Some stores have already stopped taking pre-orders (Tesco!), presumably because all their allocated stock has been pre-sold, so this is going to be a very popular toy indeed!
Thanks to PrernaK @ HUKD