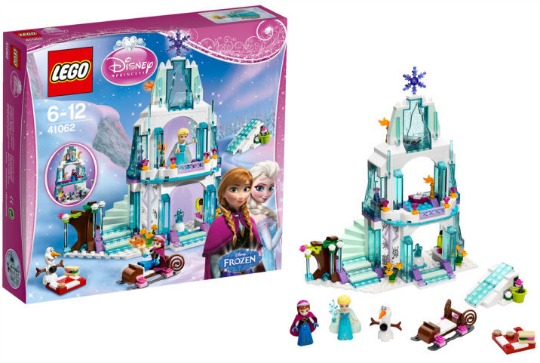 Forget your Snow Glow Elsas, this is THE toy to have! The Lego Disney Princess Elsa's Sparkling Ice Castle is two of the childrens classics fuse together. You have Frozen, one of THE most successful animated films of all time and Lego, one of THE bestselling toys in the world. These aren't quite out there yet, and trying to get one is like me trying to get into a size 6 pair of jeans. Well, that's if you don't have PlayPennies looking for them. Get over to The Hut and preorder yourself one NOW, they are just £34.99 and that includes FREE postage.
The Hut don't actually tell you when your item will be received but I don't think this is getting released until January so please bear that in mind! If you have this in mind for Christmas then you are out of luck, as you won't get your hands on it in the UK. you can of course look abroad but then you have delivery times to consider.
This set is VERY exciting and will be a true Lego collectors piece. You get Anna, Elsa and Olaf Minifigures, which will be worth a fortune in their own right. This castle set comes with 292 pieces altogether and is most suitable for children aged six to twelve years old due to the technicalities of building the castle.
As far as we know the official launch date for this set in the UK is the 1st January 2015, so good luck and we hope you manage to get one of these preordered.