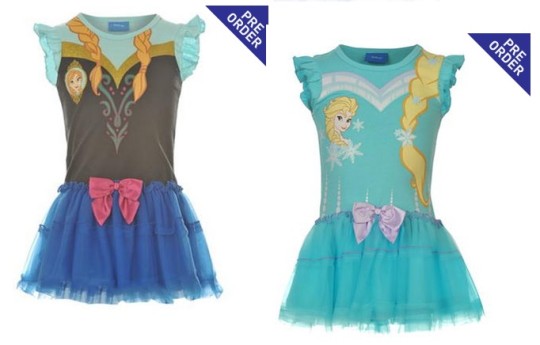 Sports Direct have these two new Elsa & Anna dress styles available for pre-order. They're currently £8.99, but will apparently be £16.99 once they're physically on the shelves. We'll have to see about that, but that's what they're saying right now.  Delivery is £3.99 too.
The Anna dress is expected on the 23rd of March,  but the Elsa dress is expected on the 20th of April only, so there is a bit of a wait on them.
Should you order anything else along with the pre-order dresses, your whole order will be held, so just be aware of that.
Apart from the Anna & Elsa dresses there are also a few other princesses in the mix. These dresses are billed as "play dresses" and have short sleeves and frilly skirts.
When you're ordering, remember to remove the sports magazine and mug from your basket, otherwise you'll be charged the extra £1 for that if you wanted it or not.
So who needs another version of the Anna and Elsa dress? Well, many a little girl, I'm sure!
Thanks to Lisa from Facebook