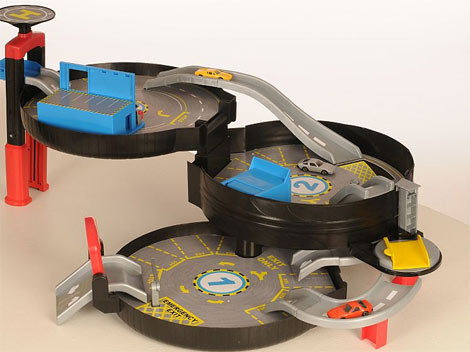 Asda Direct are selling this Pack Away Garage for half price, it's £10 now instead of £20.
Give me cars to play with, of any size, real or toys, and I'm a happy girl; it's always been the same as dolls were just not for me, so don't fall into the stereotype trap that cars and garages are just for boys.
Playing with cars on their own is ok, but just vroom-vrooming them around can get a bit boring so a garage is what you need to spice up the driving experience a bit.
This Pack Away garage is great for doing just that.
You can drive your cars in, you can choose to drive right the top (even though there are plenty of spaces on levels one and two) and execute some rather complicated parking manoeuvres before it's time to drive out again; brilliant!
There's the obligatory car lift and also a helipad on the top; when you've done enough driving for the day you simply close up the three levels of the Pack Away garage and it becomes a car tyre - well, not a REAL car tyre obviously otherwise I'd definitely have them on MY car!
You can arrange to collect this Pack Away garage from your local Asda store or have it delivered to your home for £4.95 instead.
Happy driving!