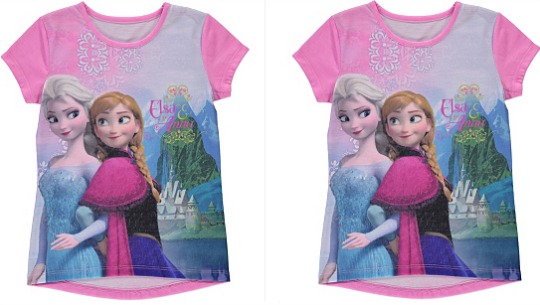 We just keep stumbling across these amazing Disney's Frozen deals and it would be rude not to share them. Here's a great price on a girl's Frozen T-shirt. George at Asda are selling these from £5.
The sizes in stock are from age 4 right up to age 14, so if you have a Frozen daft teen then this is for you. There is a pound difference between the older sizes. Age 4 up to and including 7-8 is £5. Size 8-9 upwards is £6.
This top is made up of 100% Polyester and is completely machine washable. Which is always a good thing when it comes to children's clothes. Brightly coloured and it's even got our two favourite Frozen girls on the front too. It would be fine for just now as it's short sleeved and summery looking despite its wintery scene on the front.
Due to the popularity of Disney's Frozen, I am sure these well sell out so you may want to get your orders in as soon as you can.
These can be collected free in store or delivered to your home for £2.95.
Special thank you to bebo83 @ HUKD