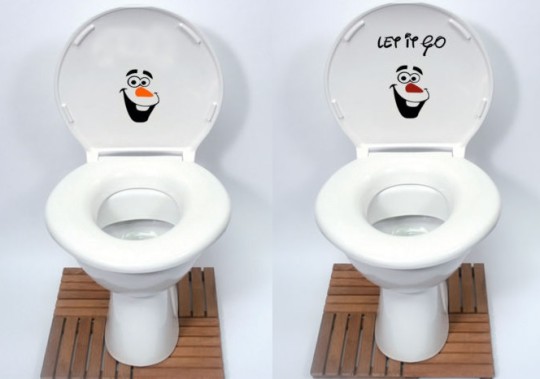 Is this really cute or totally tacky? Whatever I think, my 2 year old thinks its awesome, and she wants one to turn our toilet into an Olaf toilet. I'm not sure what Olaf would think about that, either! These Olaf 'Let it go' stickers are £2.98 at eBay, or there's an Olaf image only option for £2.95, also delivered.
Okay, I'm sure you won't find these stickers in the bathroom of your top hotels, but it's pretty cute if it encourages little ones to enjoy going to the toilet. Let's face it, most of us will take any help we can get it when it comes to potty training!
These 20cm stickers will stick to a clean toilet seat, and can be wiped over when you're cleaning your toilet too.
And for under £3 delivered, it's a bit of fun for the kids anyway. I can just imagine my daughter's face if she lifted the toilet seat to see Olaf there!