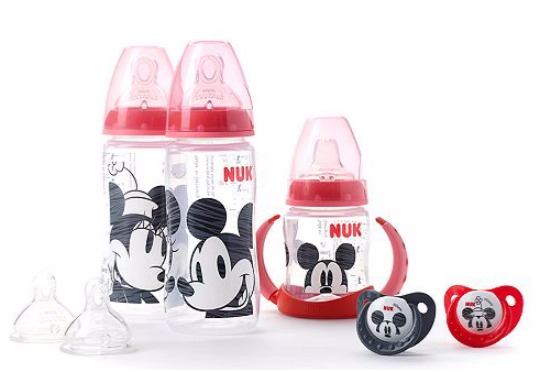 To some, baby bottles are baby bottles, but some of you like something that bit different. I tried to find cool, patterned baby bottles for my youngest and the best I could find was little cars. If only I had stumbled across these NUK Mickey and Minnie Baby Feeding Starter Sets. Look at how smart they are! Just now, Argos are selling this Disney bottle bundle for just £9.99, reduced from £23.99. Plus they have chucked in FREE delivery for good measure.
The NUK Mickey and Minnie Baby Feeding Starter Set Bundle contains Two 300ml NUK Bottles  for 6-18 months babies, a 150ml Learner Bottle for babies of 6-18 months, FC+ Silicone Size 2 Medium Teats again, for 6-18 months and Two Mickey Size 2 silicone soothers.
There's nothing to say you can't buy this as a new baby gift but it is NOT for little newborns. The flow of the teat will be much to fast so bear that in mind.
NUK First Choice+ teats are apparently made to compliment breastfeeding and I cannot comment on whether they are good or not as I have never used them, however, it's trial and error with a lot of baby equipment.