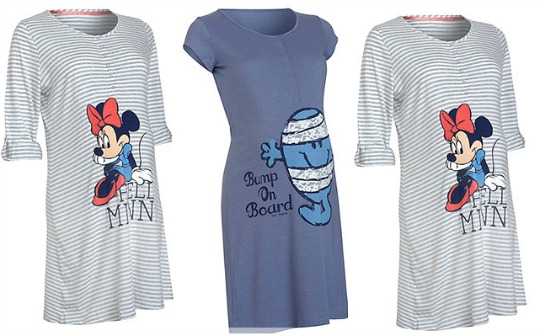 Don't underestimate the importance of maternity nightwear. I lived in my pyjamas, nighties and anything stretchy, it was just more comfortable. Mothercare have reduced the price of the Minnie Mouse Maternity Nightdress and the Mr Bump one from £18 to just £8. Even if you aren't pregnant yourself, one of these would make a nice gift to that special mum-to-be.
Thinking of what to give birth in, I gave birth in a nightdress like this all three times, so it could be suitable to pop into your hospital bag. The Minnie Mouse one is 100% cotton and the Mr Bump one is a composition of 60% cotton, 40% polyester so I reckon they should keep you cool enough should you need to be.
The Mr Bump one is my favourite of the two as it reads "Bump on Board". Both have a popper opening front to make breastfeeding easier.
Availability is good for the Minnie Mouse Maternity Nightdress but some sizes are out of stock on Mr Bump.
You can click and collect the Minnie Mouse/Mr Bump Maternity Nightdress for FREE or pay £3.95.