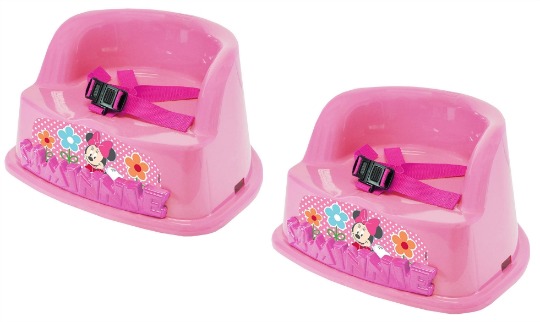 It's not always ideal picking up a second highchair to have at Granny's house. They are bulky and not everyone has the room or the money to fork out on one. The Minnie Mouse Booster Seat at Babies R Us is ideal for those times away from the home when a highchair may not be available. It's reduced from £19.99 to just £9.99.
The Minnie Mouse Booster Seat will fit on most standard size dining chairs. There are adjustable straps that secure it firmly to the chair and a three point harness to keep baby safely in the booster seat. For that extra security, are some non-slip rubber feet to the bottom of the booster.
It's easy to wash as it's wipe clean and made from plastic. It is bright pink and has a nice Minnie Mouse design on the front. This should encourage your tot to sit in it at meal times. It's designed for children aged 12 months to two years old max.
You can Click and Collect the Minnie Mouse Booster Seat for FREE from a Toys R Us near you or pay £4.95 to have it delivered to your front door.