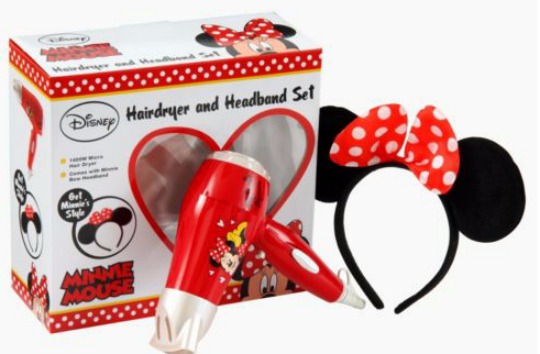 I find it ever so hard buying for little girls around the age of six. You don't want to buy them anything too babyish and you don't want to get them something for a teenager. When I clocked this Disney Minnie Mouse 1400w Hair Dryer with Headband I thought it was a nice gift for little girls of that awkward age. It's less than half price at just £12.09 from Argos, reduced from £29.99.
The Disney Minnie Mouse 1400w Hair Dryer and Headband has a 4.8 star rating on Argos, so I am inclined to believe that it's of good quality.
It is fairly powerful at 1400w and is maybe a good starter for teaching your daughter how to dry her hair. I had very long hair as a child and I hated drying mine. Perhaps, if I had one of these it would have been better.
Featuring two speeds and two temperature settings, this Minnie Mouse Hair Dryer is much more than a bog standard one. It even has a cold shot to set your style.
Reserve and Collect this hair dryer for FREE from your nearest Argos or pay £3.95 to have it delivered to your door.