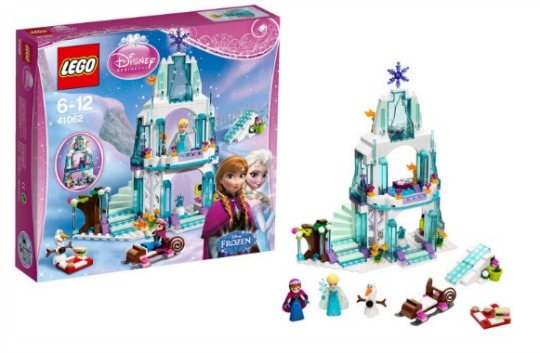 Now we know how excited we all got about the release of the Lego Frozen Princess Elsa's Sparkling Ice Castle, and when pre orders started at The Hut and Very they sold out amazingly fast....so you're going to need to be quick with this one!
The Lego Shop have this available for pre order online now, and the site says it will be available to be shipped from 23rd January 2015, with a delivery charge of £3.95 on top. The initial shipment due to go out on 2nd Jan went immediately, so this is the earliest date you can get them direct from Lego.
BUT the more exciting news is that if you can get yourself to a Lego Store they have them in stock RIGHT NOW!
Apparently stock got delivered on Boxing Day and we have reports of people being able to buy them in Lego Stores in Manchester, Cardiff and Westfield so far. If your store is any distance from you we would strongly advise you to telephone first to see if they have any stock and if they are able or willing to hold one for you to save a wasted journey and disappointment.
You can find the details of your nearest store here.
The price is the standard RRP of £34.99, and with a toy as much in demand as this one it's unlikely that there will be any significant reduction for some time. After the earlier rush to get hold of a Snow Glow Elsa this is the next must have Frozen item that every fan is going to want.
Thanks to cheviva and other contributors to the thread @ HUKD.