LeapFrog Tag Reading System Book -The Princess and the Frog £3.49 Delivered @ Argos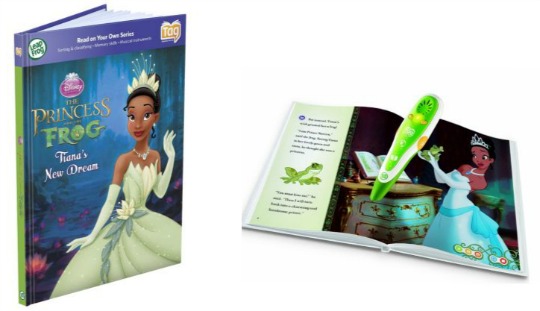 This was originally £12.99 and had been reduced by 73% taking it down to £3.49 today. It's an online exclusive and therefore not available for store collection but delivery is free.
This works with the Tag Reader system and was a firm with my daughter when she was little. The Tag gave her more confidence as a reader, helped her recognise words as well as providing a whole lot of fun too. If you've never heard of Tag it's basically a "pen" that reads out the words of the story as your child underlines them and there's a few games and songs within each book too. Recommended for ages 4 years and over, I'm sure like most of these things you can take that as just that, a recommendation, you know what's suitable for your own child.
I'm sure you're all familiar of the story of Tiana and The Princess and the Frog and if not I wouldn't want to spoil the surprise, so won't dwell on that aspect of it too much. It's Disney. It's a Princess. Any little fans of both will love it.
This is currently £12.99 at Amazon. With the free delivery I think the £3.49 price tag from Argos is pretty good indeed today, especially with that free delivery! Just a final note, this is of course the book only, the Tag Reader system or the "pen" is sold separately.