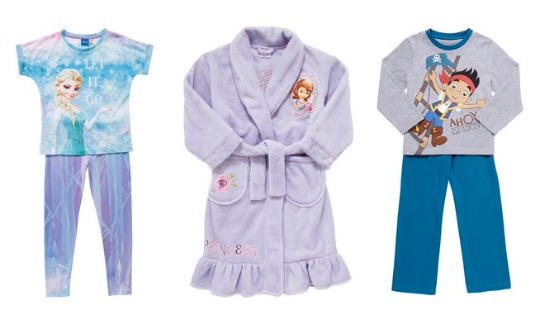 The Florence & Fred clothing sale at Tesco is now in the Final Reductions stage, but there are still more lines being added all the time, and in the Children's Nightwear section there are some brilliant bargains. Prices start from just £3, and the sale includes Frozen, Disney Princess, Spiderman, Superman, The Simpsons and loads of other character nightwear too.
The Frozen items include a nightdress for £4.50, pyjamas and a onesie for £5, and a gorgeous dressing gown for £6. There are Sofia the First, Jake and The Neverland Pirates and Fireman SamPJs for £4 a pair, and the Tinkerbellor Sleeping Beauty pairs are only 50p more than that!
The cheapest items are Unicorn Pyjamas or a Onesie for £3, and there's a Pink Dressing Gown for just £3.50!
Sizes do vary because some of the items have been in the sale for a while now, but the newly added nightwear has more sizes available.
If you do find you are seeing loads of things you like on the Florence and Fred site, then you can save £10 when you spend £50 with the code THRIFTY50. (But that would be an awful lot of PJ's!)
Click and Collect is free, or home delivery charges are from £3.95.