Two Kids Duvet Sets For £16 - £21 @ Tesco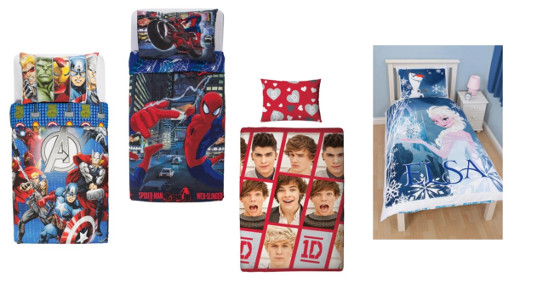 Tesco has some great prices on kids duvet sets at the moment, and if you combine smartly, you can take £5 off your total too. Click and collect is free from your local store and delivery will add £3 to your total.
Depending on which duvet sets you choose, your price will differ. You could get as much as 3 sets for £30, which is pretty good value in my book, seeing as one of them is the £19 Frozen duvet!
If you spend over £20 on bedding at Tesco right now, (till the 11th) they'll automatically take £5 off your total. Say you wanted Frozen and Spiderman, both are yours for £21. If you wanted Frozen and 1D, £23. If you only wanted 1D and Spiderman the £20 offer wont kick in, but you'll be paying £16 for both. Still not bad at all.
Marvel is £14, add that to Spiderman's £7, take off £5 and both just £16.
I have two girls and if I bought one Frozen and the other not... well, there would be no sleep in our house, so two Frozen sets for £33. Still not a bad price, and better than £38.
There's also Doc McStuffins, Princesses, Tinkerbell, Mini Mouse, Woodland Creatures and loads more to choose from here.