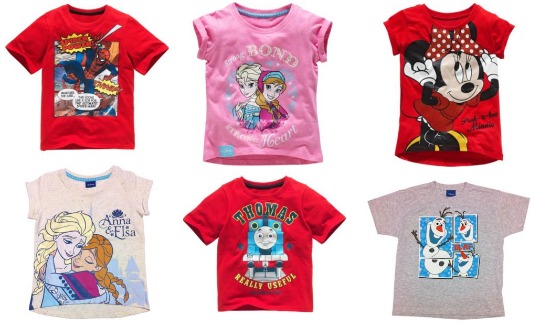 Argos have a ton of kids character clothing at really good prices, and at the moment there are nine different t-shirts at £2.99, including Frozen, Spiderman, and Thomas, and one of them even has free delivery as well!
For £2.99 you have a choice of the following t-shirts, all of which can be found on the link above:
Frozen Olaf Grey T-shirt
Frozen Sisters Pink T-shirt
Frozen Elsa Blue T-shirt
Angry Birds Red T-shirt
Frozen Pink T-shirt
Minnie Mouse Red T-shirt
Thomas & Friends Red T-shirt
Spiderman Red T-shirt
Frozen White T-shirt
Availability varies across the styles, and a few of them are a bit hit and miss, but for that price it's worth a quick look to see what there is in your local store. It's rare to see character clothing at such a cheap price and it's tempting to scoop up a few ready for the summer, or the mini heatwave that is rumoured to be on it's way this weekend.
If you have a Frozen fan then you have five to choose from, and the white one is even free delivery! That's a real bargain.