Kid's Character Travel & Holiday Special Buys from 14th June @ Aldi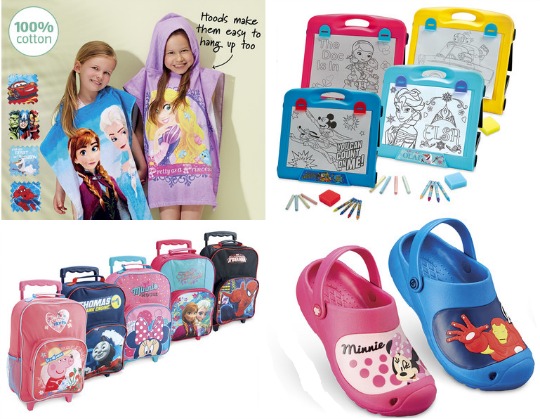 If you're planning a summer break, either at home or abroad then you need to get yourself to Aldi on Sunday, as there are some super Special Buys. Although I'll list the kids things here, there are plenty of holiday and travel essentials for the rest of the family too, so it's worth a trip to Aldi.
The characters include the usual array of Disney favourites like Frozen, Disney Princess, Minnie, Mickey and so on, as well as Thomas the Tank Engine, Spiderman, Iron Man, Peppa Pig and lots more. The characters vary with each item, but full details of what is available is on the link below.
Here's a list of all the children's holiday and travel supplies that will be on offer from 14th June, and they won't stay around for long at these prices:
Children's Character Wheeled Bag - £8.99
Character Hooded Poncho Towel - £4.99
Character Beach Towel - £5.99
Children's Character Clogs - £4.99
Character Travel Art Easel - £7.99
Kids Licensed Character Headphones - £8.99
Children's Craft Sets - £1.99
Travel Games - £3.49
As well as those kids items there are suitcases, travel bags, beach towels, flight socks, travel wipes, insect repellent and loads of other things that you'll need for your hols, and all at the really low prices that we expect at Aldi. Looks like I'll see you there on Sunday. :)