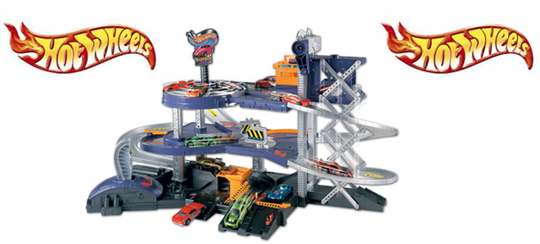 Smyths Toys have reduced the price of this Hot Wheels Mega Garage from £59.99, down to £24.99.
One of my cousins had something similar to this Hot Wheels Mega Garage, years ago, and I loved going round to his house on a Saturday afternoon to play with it; I was a car fan then and I'm a car fan now - who says that girls have to play with toy irons and vacuum cleaners?! It was cars and Star Wars figures all the way for me.
It features five ramps and three levels - which is properly awesome - where you can bring your cars to fix them or just park them; I spent hours driving lots of cars up onto the various garage levels and just parking them. It also boasts a working car elevator, a turnstile and two car launchers and one Hot Wheels car; awesome.
The Hot Wheels Mega Garage is available to buy in-store, if you have a Smyths near you, and online too - home delivery will cost you an additional £4.99, unless you find something else to buy that will take your order to over £39, then delivery is free.