Hot Wheels Basic Cars Assortment 47p @ Argos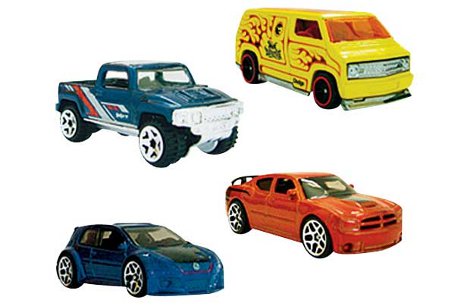 These Hot Wheels Basic Cars are 94p each at Argos, and are also buy one get one free, making them effectively 47p each until 31 May.
So the up side is that these are really good value for money, but the down side is that you don't seem to be able to choose which ones you want. Perhaps if you go to Argos on a really quiet day or time and have a friendly assistant they'll bring you a few to choose from, otherwise it seems to be a bit luck of the draw.
Nono2522, from HUKD, bought 20 of these for a boys' party bag filler, which I thought was a very good idea for not too much money.
The reviewers are generous and give the range 4.5 stars, with the general complaint being that you don't know what's going to turn up and might end up with more than one of the same item and that the title was misleading as people thought they'd get four cars in one purchase, which of course, you don't.
Argos says these are suitable for children from 3 years old and over.
Thanks to Nono2522 at HUKD