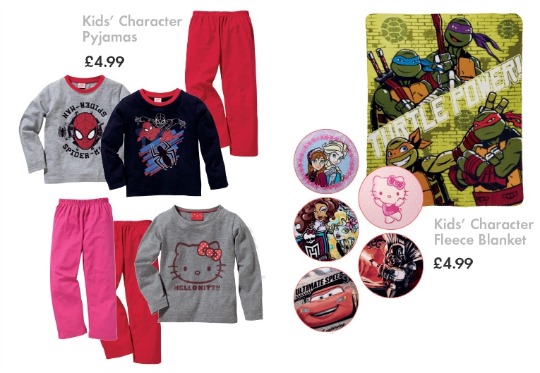 Lidl have some Kids Corner special offers starting next Thursday 29th January that it's well worth making the trip to the store for.
It's all character items like Disney, Hello Kitty, Spiderman, TMNT and the prices are really good, especially for character goodies. You can get Pyjamas for £4.99, 2 pairs of socks for £1.79, and Leggings for £1.99.
There are fleece blankets for £4.99 in loads of different characters including Frozen, Star Wars and Monster High. You can also get a puzzle and poster set, or 3D Sticker Scene books for £1.99, along with other toys, balls and puzzles.
I think the pyjamas, leggings and fleece blankets are the best value items there and are likely to be the first thing to go, so you might want to head there when the offers go live next Thursday.
Lidl offers are in store only, but you can check what your local store has on the Lidl website.