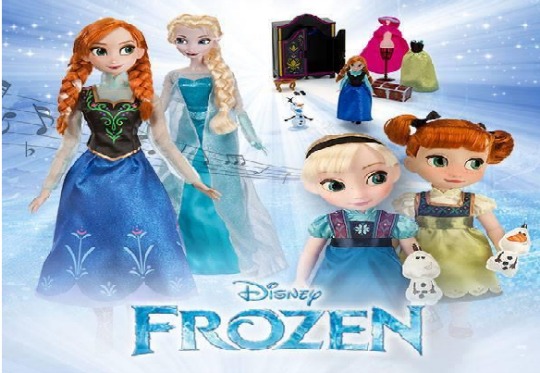 Read this and you could become very popular indeed. From the start of next week, (perhaps Monday?) Disney Store are launching their new lines of Frozen toys. How exciting! We don't have exact details of when they are officially in store and online, because Disney Store are drip feeding us the info, but here's what we do know:
This new range of Frozen items is promised to run until Christmas, but I wouldn't hold my breath on that happening. For the simple fact that this stuff is going to sell like crazy. I hope they have an endless supply to keep us Frozen addicts in Frozen delights.
What we do know is there will be singing dolls available in Anna and Elsa at £25 each. Not only do they sing but they light up too. Elsa's hands and Anna's heart glows blue. How sweet? A new Enchanted Elsa costume too, price currently unknown.
All items will be limited to amounts that people can buy - although this has not been specified either - to prevent people buying in bulk and selling on for a profit when they sell out, thankyouverymuch.
Keep your eyes peeled as we filter more information to you, once we squeeze it out of the Disney Store of course!
Stay tuned folks, and keep an eye on Playpennies Facebook page to see it when it happens!