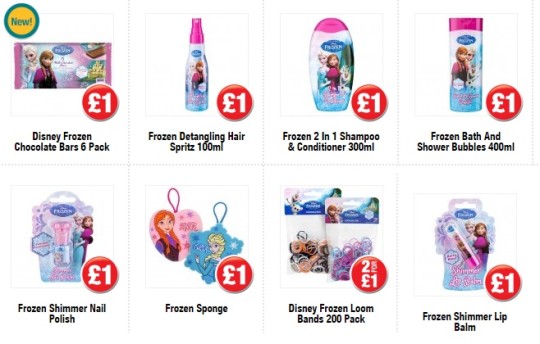 We wrote about Poundland, a while ago, saying that they were stocking shampoo, conditioner, sponges and bubble bath featuring the Frozen 'theme'.  We've heard rumours that there's also necklaces and bracelets from the princess-sisters there too, but it's quite hard to verify with Poundland, specifically, because they don't have it on their website always, and the stores don't always have the same stuff either.
If you check out the website you'll see they have a rather huge range of toiletries, including detangling hair spray, shampoo, hair spray, bubbles, lip balm, shimmer nail polish and sponges. Unfortunately our local Poundland only ever has the shampoo and conditioner, so it really is hit and miss.
There are also chocolate bars, and loom bands, but what I'm particularly interested in is the jewellery. I can't see that on the website yet though, and they don't have it in my local, so if you find it in yours, do let us know!