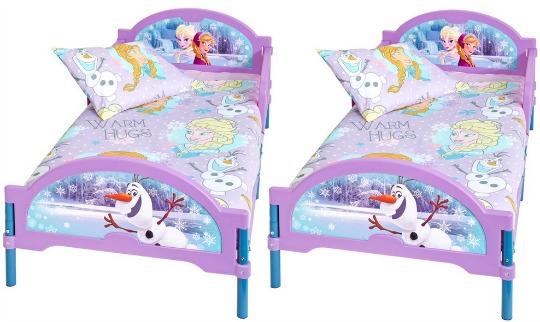 Just to take a break from Christmas toys for a minute, Smyths have a really good offer if you're needing a new Toddler Bed. They have what they call a "Toddler Bedding Bundle" offer - you choose a Toddler Bed, a Mattress and a Bedding Set (Duvet, Pillow, Duvet Cover and Pillow Case) from several designs available.
When you add them all to your basket the price will come down to £89.97, saving you £20 on buying them individually!
As well as the Frozen design there are Minnie and Mickey Mouse Toddler Beds. The Bedding sets come in those designs plus Doc McStuffins, Peppa Pig or Thomas.
We're very practical in our house, so when our eldest son outgrew his cot he got a toddler bed as his 2nd Birthday Present! He then got his upgrade to a mid-sleeper for his 5th Birthday. Maybe your little one needs a cosy new bed for Christmas?
The toddler bedding bundle, or any of the individual items are available for Free Click and Collect, or Home Delivery is also Free when you spend over £39, Bulky Items delivery (which I'm guessing might include the bed) is £2.99.