Frozen Figures Back In Stock @ Disney Store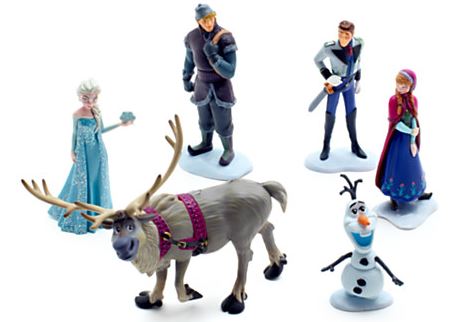 Pop over to the Disney store to find the newly back in stock Frozen Figures for £12.50. Delivery from the Disney store is £4.95 unless your order totals  more than £50 when it becomes free. A similar figurine pack at Toys R Us is priced at £29.99.
I was speaking to a mum over the weekend who had hear that Elsa dolls were back in stock at her local Disney store the following day. She went out at 8:55pm to get to the Disney store before 9pm to see if they were putting them on the shelves ready for the next day. She wasn't allowed to buy one, but was permitted to reserve both Elsa and Anna and had a beaming daughter, the most popular girl on the campsite all weekend, who held onto those dolls for dear life. I find it a little crazy, really, but hot is hot, so grab your own Frozen bits from Disney now that they're back in stock.
This lovely set of static figurines features 6 character pieces from Frozen - Anna, Elsa, Kristoff, Hans, Sven and Olaf - in 7 to 9cm stature.