Frozen Elsa and Anna Toddler Dolls plus Olaf Toy - £21.99 @ Argos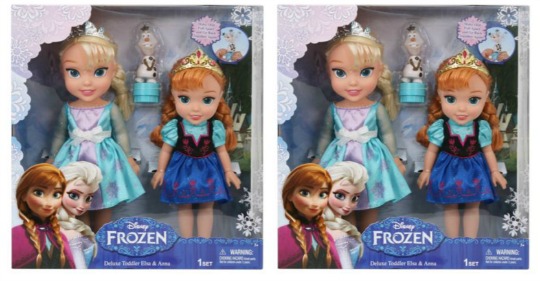 This is a strange one. Argos have a pack containing both Elsa and Anna Toddler dolls plus a small Olaf toy which was £49.99, and it's now on Clearance at £21.99. I think perhaps they have gone a little mad, or someone in their IT department has made a big mistake.
Word is already out about this massive bargain, so unkind people are buying them up in big quantities for eBay. This does mean that they are few and far between for free store collection. There are some in stores, but what is odd is that there seem to be loads available for Home Delivery - it's usually the other way round. For example, one of the areas I checked for stock was Greater Manchester, and there were none in stores, but using a postcode it said they could be ready for delivery in 2 days.
The Frozen toddler dolls are normally nearer £25 each, so to get all three of these for £21.99 is a bargain you want to be in on.
If you do miss out, then the next best price is Home Bargains where the Anna and Elsa Toddler Dolls are back in stock for £17.99 each.
Good Luck all!
Thanks to Abbyd93 @ HUKD.