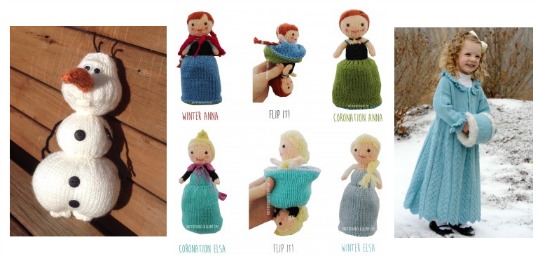 I bet loads of you know someone who can knit, or you can knit yourself, as it's had something of a revival recently. Well if you can, or have someone who is happy to take on requests and knit things for you (Hi Nan!) then you could always download one of these free Frozen Knitting Patterns and get something unique for just the price of the yarn.
There are wonderful 'flip' dolls of Elsa and Anna where you flip the skirt to change their outfit from the Coronation outfit to the Winter one - aren't they sweet? There's a cute Olaf to knit, or an amazing Snowflake Princess Coat, along with lots of other free patterns too.
If crochet is more your thing then you can also find Free Frozen Crochet patterns on the website too.
Some of the projects are quick and easy and won't take much wool to make, whilst others are better suited to more experienced knitters.
So what do you fancy making...or asking granny to make for the kids? I bet even my boys would love the Olaf.  :)