FREE Disney Activity Pack For Kids @ Change4Life With Disney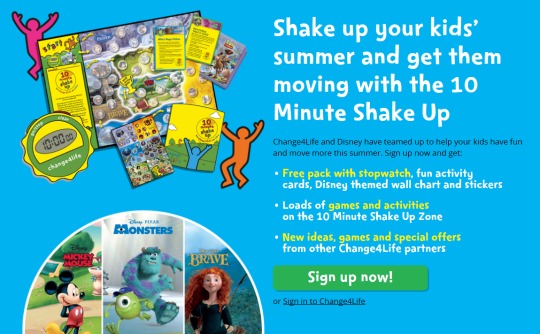 Updated 25/8 : Looks like they've run out of stopwatches due to "high demand" but still a decent freebie for the kids here!
Only available for people living in England it would seem but a cracking freebie for the kids here.
Change4Life and Disney have teamed up to help your kids have fun and move more over the summer. If you sign up using the link above you'll get : A free pack with stopwatch, fun activity cards, Disney themed wall chart and stickers, loads of games and activities on the 10 Minute Shake Up Zone and new ideas, games and special offers from other Change4Life partners.
Some of your children may have already received this pack in school as it's for ages 5 and over but if not, use the link to fill in their details and grab one for them now. It's a maximum of three per household, so if you have more than three kids, they'll have to share.
Obviously the idea behind this is to get kids out from behind computer screens and on the move. Even if your child is normally active, as so many are, this is a nice little freebie to encourage their good habits.
Thanks to toffeelover9 @ HUKD!