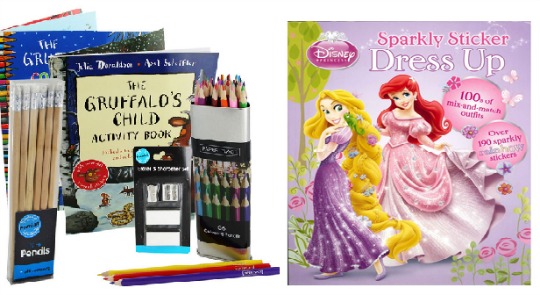 Today is a special day, and potentially expensive. The Works have launched their new Click & Collect service, it's FREE and means we can get all these online bargains sent to our local stores. I can certainly see myself buying more. Sometimes, things just aren't a bargain once P+P is added. To entice you even more, they are running an up to 30% off when you enter the promotion code TODAY30 at the checkout.
The Works is one of those stores that I detest shopping in, so I do tend to grab the bargains online. You can't fault there site. It's easy to use and there's promotions galore. Now I can just go in and out. Fab! The Up to 30% off code is a bit of a strange one, for a start it depends what item you add, as to how much discount is deducted. Some stock doesn't receive any, like the Disney Frozen 2015 Calendar*.  You can see all of the Frozen merchandise here*.
My kids are Minecraft daft, which in turn drives me daft. This Minecraft poster* is now only £2.79 when you use the promo code. You will find all Minecraft goodies, here*.
I say get your behind over to The Works and see what goodies you can find. Don't forget to let us know!
You can find TODAY30 and other discount codes for other retailers, over at our vouchers section.