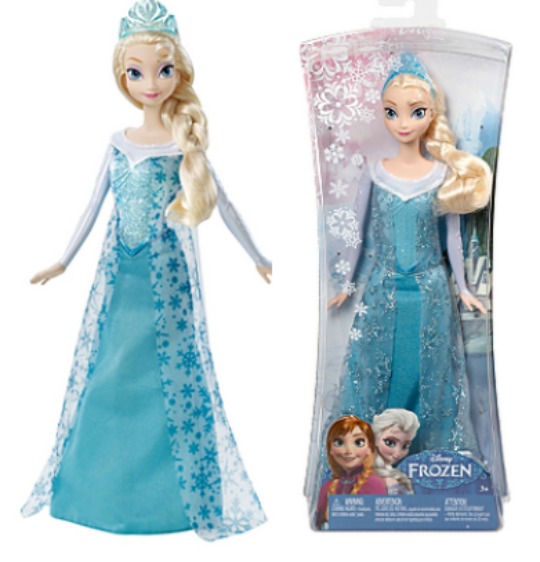 Elsa Sparkle Doll £17 or Disney Frozen Musical Magic Elsa Doll £29.97 @ Asda Direct.
Nope no special offer, no reduced price but they're in stock so grab them!
If you've been waiting and watching, refusing to pay eBay prices and looking for an Elsa doll, the Sparkle and Musical version have just came back into stock at Asda Direct.
With yesterday's news that Frozen is now the 5th biggest box office hit of all time, grossing over 723 million, the hype surrounding it is showing no signs of slowing. With that comes the headache for parents of where to get the merchandise their kids so desperately want, without paying over the odds. When stock comes in it goes so quickly, especially for Queen Elsa. You really do have to move quickly to grab these items at RRP right now. The Sparkle Elsa is Barbie style, in that she is a similar size and can't stand unaided. The reviews over on Asda are positive, scoring 4.9/5 overall with comments such as:-
The product was purchased for my granddaughter and she absolutely loves it. She saw the film and wanted the character doll.
The doll is lovely with its long blonde hair in a plait also she wears a blue tiara.
Dress is long a beautiful shade of sky blue with glitter stars on the cape. At first we didn't think there were shoes with the doll as she wasn't wearing any but they were in a very small clear bag attached to the box..
Musical Elsa is described on Asda as:-
Your Disney Frozen fan will love this Elsa fashion doll. This 10" fashion doll wears her signature outfit. Elsa's ethereal gown looks as delicate as a snowflake and as majestic as her own icy powers. A strip of white showcases the gorgeous, light-blue bodice. Her long blue skirt, accented with a deep blue ribbon sash, provides a peek at her translucent blue heels. A sheer white overcoat detailed with snowflakes completes the elegant look.

Her flowing blond hair, pulled into a side braid and topped with a translucent, glittery blue tiara is the perfect final touch. Simply hold Elsa's hands to see the doll 'magically' light up and play enchanting music.
You can collect in store for free or opt for home delivery but that will cost an additional £2.95.