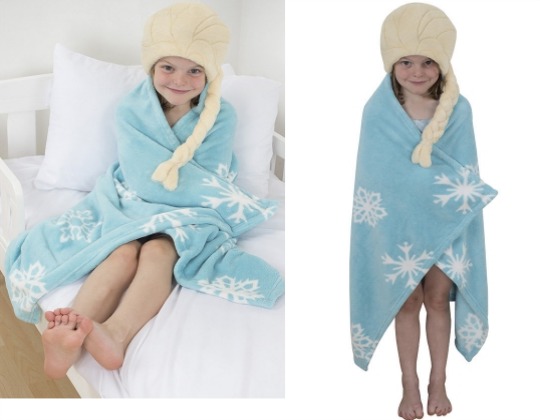 We have all seen the Olaf Cuddle Robes* that are in all of the shops, but this is the ELSA Cuddle Robe. Your little Disney Frozen fan will go bananas for this. Toys R Us are selling these for just £9.99 which is cheaper than anywhere else. In fact these sell for a whopping £15.99 in some places, like Price Right Home.
Sometimes your child will get an invite to a party of someone you have no idea who they are. That's okay, you child tells you that this person LOVES Frozen. Problem sorted.... grab them one of these Disney Frozen Elsa Cuddle Robes from Toys R Us!
The Elsa Cuddle Robe is made from 100% Polyester and has a "luxurious" soft feel to it. Think of those Saturday nights in front of the television. We are still getting the cold weather so these are still needed.
What I love about this robe is Elsa is embroidered on the back and the hood, when up, looks like Elsa's hair.
You can Click and Collect the Disney Frozen Elsa Cuddle Robe for FREE from a Toys R Us or pay £4.95 for delivery.