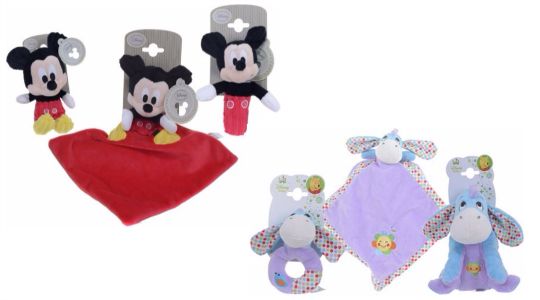 Looking for a 'New Baby' present? I find it quite difficult getting something that's a little bit different. All my friends seemed to get pregnant all at once so I am conscious of not replicating gifts. These character Nursery Sets at Argos are lovely and really caught my eye but I am not paying £21.99 each for them. Thankfully, Argos have reduced the Eeyore and Mickey Mouse ones down to £9.59 and £9.95. That's including FREE delivery. Nice One! The Tigger and Winnie the Pooh ones are still full price.
What do you get in the Eeyore and Mickey Mouse Nursery Sets? A soft comforter, a ring rattle and a soft toy. Obviously themed to whatever character you have selected.
All items are made from a soft material with a plush finish which makes them ideal for precious little ones. They are suitable from birth too, so this is a 'New Baby' present that can be used straight away.
It also looks to me, from the photo on the Argos site, that each item is individually packaged. This means that you can split it. If like me you have more than one new baby to buy for, then you could pop an item in with a little outfit or whatever you buy.