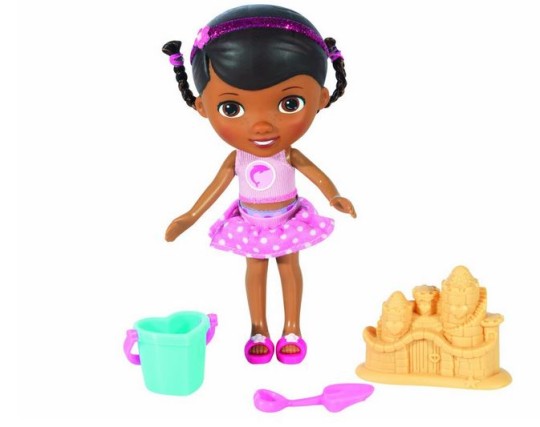 Amazon have a Doc McStuffins Swim Time Doc on sale for £3.72, although you will need to spend £10 to qualify for free delivery, or have Amazon Prime. You know this little sporty Doc will go down well though, so it's definitely an add-on to keep in mind. This doll is still £7.99 at John Lewis, and £8.50 at Tesco.
My daughters have Doc McStuffins house set that came with the Doc, a hippo (Hallie, I think) and a sheep (Lambie). My oldest convinced her 2 year old that if she could have Dottie to be hers, her sister could have two dolls - the hippo and the sheep. My youngest thought this was great, till she actually saw Dottie, at which point she realised she'd been shrewed - like how I made that a verb? -out of the leading character? She was no longer as happy!
This little Dottie doll is a six year old girl, who 'fixes' toys, with a little help from her stuffed animal friends, Stuffy, Hallie, Lambie and Chilly.
Dottie coms with a spade and bucket, and decked out in her swimming gear, perfect for taking along on summer holidays.
Thanks to carloszoe1982 at HUKD