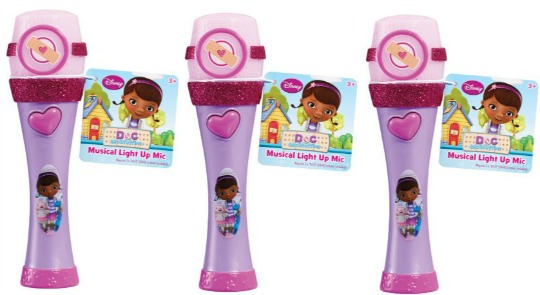 Disney's Doc McStuffins toys are one of the most requested items, from you guys. We do our best to find the best deals in the things you folk want, so here it goes. We have found you a Doc McStuffins Musical Light Up Microphone for only £5.12. It's over at Amazon, and reputable seller Fun Collectables are the ones offering it for this super price. Just look down the right hand side and you will see it there for £5.12. It sells for around the £7 mark elsewhere.
What does the Doc McStuffins Microphone do? It features songs from the programme, so prepare to be tortured as your child sings along, over and over again. There's a flashing light feature for WOW factor. Doc McStuffins is on the front. One good thing is that, maybe, just maybe your little one will stop stealing your hairbrush to use as a microphone.
Here's how to get it with FREE Super Saver delivery- simply add on an item of £4.88 or more. Like, this Doc McStuffins Dominos set* for £4.99.