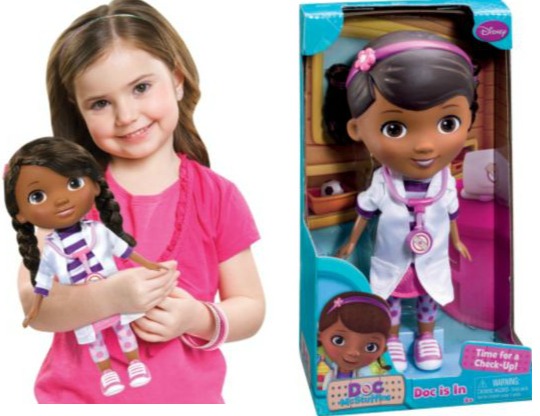 After a dolly that isn't too baby like? This Doc McStuffins doll is large and isn't babyish in the slightest. Get it from Argos and you pay £10.99 instead of it's original price of £17.99. Plus Argos are throwing in FREE delivery too. This has two cracking five star reviews on the Argos website, so if you still need to buy for that little Doc McStuffins fan then this is worth some consideration.
Doc McStuffins is a creation of Disney, and everything they touch turns to gold. The Doc herself is very popular and this doll is a replica of her. It comes dressed in Doc's usual attire, the white coat and the lilac pumps.
With this doll you also get her stethoscope because no doctor can work without one of those. Her hair is like that of a barbie doll and not a solid lump of plastic, which is great as your little one will be able to play about with different hairstyles for her.
This doll isn't a tiny little figurine, but is 23cm tall. I reckon that's about the length or height of a standard baby doll. For the price and the FREE delivery, I think this Doc McStuffins Doll is a really good deal.