Doc McStuffins Clinic Playhouse £44.97 Delivered @ Argos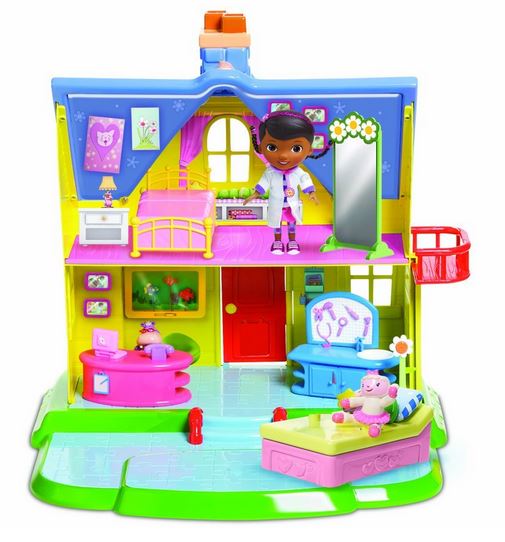 Argos have reduced the Doc McStuffins Clinic Playhouse to £44.97 delivered, down from £49.99. It may not sound massive, but it's really rare for these to dip under £45, and with free delivery you're saving a few more pounds there. They're currently £45 at Amazon and Tesco if those suit you better, but don't head to Toys R Us((£49.99) or Debenhams(£55) right now, as they'll cost you the regular price. (I believe they were down to under £15 in December last year, for a half a second, but that doesn't help much if your time machine is out of fuel.)
The Doc McStuffins playhouse comes with loads of accessories including a 2 floor clinic playhouse, with a bedroom upstairs, witha bed and full length mirror, and downstairs a reception desk with 'ringing' telephone, weighing desk, and examination bed. Outside there's a balcony style lift to get from upstairs to downstairs and a slide for outdoor fun. There are also banisters for to hold on to when you walk up to the clinic.
A sheet of stickers gives you 'paintings' and pictures around the house, as well as curtains, lamps, desks and books and so on, all in 2D, for a full and homely feel. The fish tank has 'moving' fish in it, and the door opens and closes.
The set comes with the doc herself, and Lambie and the Hippo, both of whom utter phrases when put on the examination table.
It's an all round lovely toy, my kids love it, and they spend ages playing with it. Money well spent, in my opinion!