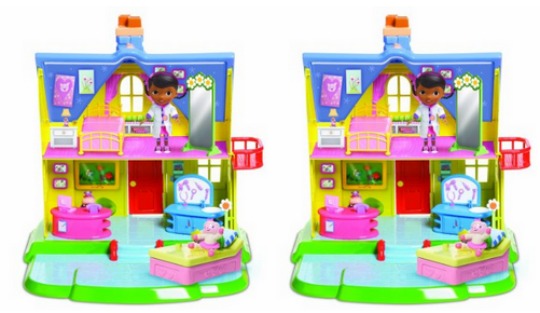 Oh how Christmas is coming together with all of these bargains that keep cropping up. Here's one for those who love our favourite Disney Doc. The Doc McStuffins Clinic Playhouse is just £30 over on Amazon. It's the lowest price it has ever been on there and the lowest I could find online! This sells for £47.99 at Argos, £49.99 at Toys R Us and £44 at Debenhams! Yikes! Plus you get Amazon's FREE Super Saver Delivery too.
Don't be fooled by the picture above. The Doc McStuffins Clinic Playhouse is a very reasonable size. Not only do you get the clinic , but Hallie, Lambie, Stuffy and furniture like a clinic table, bed, a scale, reception desk with a phone and somewhere for Doc to sleep as well as other bits and bobs.
Sounds reasonable for £30 delivered. If your little one is a fan then they will surely love this, as it is everything they would need to keep their imaginations running wild for hours on end.
Let us know if you have one of these, and what you think of it over on our Facebookpage.