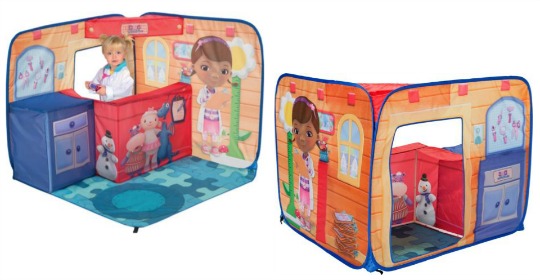 The Doc McStuffins 3D Playscape* is a pop up room that recreates Doc's toy surgery. It was £24.99, is still around £21 - £22 everywhere else, but Argos have reduced it down to just £11.99! I think this is a great price for such a big toy, and would imagine it would be a fantastic gift for a Doc McStuffins fan.
The set should take a matter of minutes to set up, and comes with it's own storage bag for when the surgery is closed and all the toys have been cured.
It's a large 'room' measuring 100cm x 100cm x 85 cm, so it's good that it can be stored away, as most of us don't have room for a permanent structure that size! It's suitable for children from 18 months of age.
It looks like it's in stock all over the place at the moment (every store in every area I checked had one!), and it's also available for Home Delivery for £3.95. Reserve and collect if free.