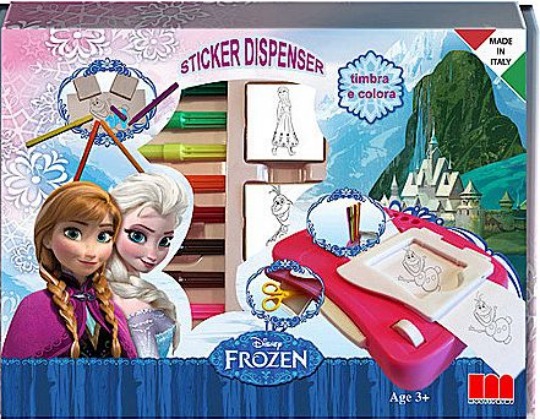 The Disney's Frozen obsession is still fighting fit in this household. Is it just for girls? Is it heck! I am surrounded by boys and they just can't get enough, even my very manly other half. The Entertainer are selling the Disney Frozen Sticker Machine for £12.50 just now. This is one of many of their Disney Frozen toy reductions and was selling for £25 before becoming it's current price.
Hmmm, so what is a Disney's Frozen Sticker Machine? Well if you ask me, this is much more than just a device that spits out stickers, but rather like an art set instead. All of the contents are Disney's Frozen themed.
Here's what is in this Frozen set: a sticker dispenser, an activity book, twelve felt tips, seven Frozen stamps and an ink pad. There's a roll of sticker paper and with the stamps your child can make Frozen stickers galore.
Now is the time to stock up on Frozen merchandise for Christmas because it really will be like gold dust come the festive season or prices will be hiked up.
Why not check out some of the other Disney's Frozen reductions at The Entertainer? Like the Disney's Frozen Stamp Set, only £3. How about the Disney's Frozen Art Set for £5?
This Disney's Frozen Sticker Dispenser is available for free collection from over 90 stores or can be delivered to your home for £2.99 ( free if you spend over £40)
I would like to point out that it is also £12.50 at House of Fraser and can be collected from one of their stores. I will add the link above.