Disney's Frozen Gift Wrap 99p Delivered (With Code) @ The Works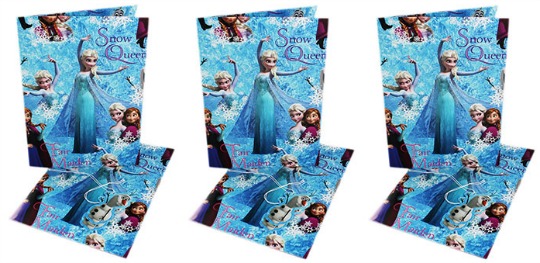 If your little Frozen fan has a birthday coming up then this is sure to impress them as much as the present inside. The Works have Disney's Frozen gift wrap for only 99p, which is a great price. Shops like to exploit things when there's a certain craze and bump up prices, not at The Works though. Get FREE delivery when you enter promotion code FREEDEL at the checkout.
With this Disney's Frozen gift wrap you get two sheets of wrapping paper featuring Elsa and Anna, plus you get two very cute Olaf tags. For 99p that's really good. The lovely Playpennies Karen McGinn has bought this exact paper, and said the quality is great for the price.
If your children have any birthday parties coming up then grab some, they will be Mr/Miss Popular if they handed over a prezzy covered in this delightful paper. I also think it would be lovely for Christmas gifts, especially for those Frozen themed presents. Afterall, I don't think it would be very economical to wrap everything in this. How about wrapping the kids' homework jotters in this? They would be ecstatic handing that over to their teacher. A tip don't use High School Musical paper on your 8 year old son's one as it leads to major stropping.
Why not head over to our vouchers section where you will find promotion code FREEDEL for The Works and much more.