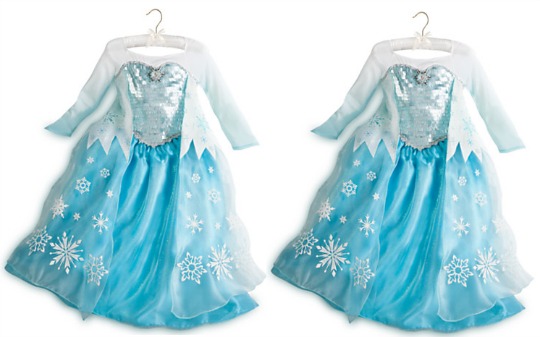 This is THE Elsa outfit. You will not find this cheaper anywhere else. The Disney Store have their exclusive Elsa Outfit for kids in stock for £30. These sell like hot cakes because of their exclusivity to The Disney Store.
Made from 100% polyester, this Disney's Frozen Elsa outfit is bursting with detail. This is as close as you will get to Elsa's actual dress.
The satin bodice is embellished with sequins and has a sheer overlayer. The long sleeves are sheer and the dress is full length. The fastening at the back is Velcro, so it's easy for your little Snow Queen to throw on and off.
It is hand wash only but you know your little girl is going to wear this until the bitter end. I personally think the quality of these are way above other Disney's Frozen outfits I have seen elsewhere.
This is currently available in ages 2 years all the way up to age 11-12. You would be well and truely in the good books if you bought this for your Frozen fan. You can even have it personalised with your little darlings name.
The Disney's Frozen Elsa outfit for kids is for delivery only, which is at a cost of £4.95 (free for a £50+ spend). Why not take advantage of their Olaf towel offer and get it for £7.99 when you purchase the Elsa outfit?