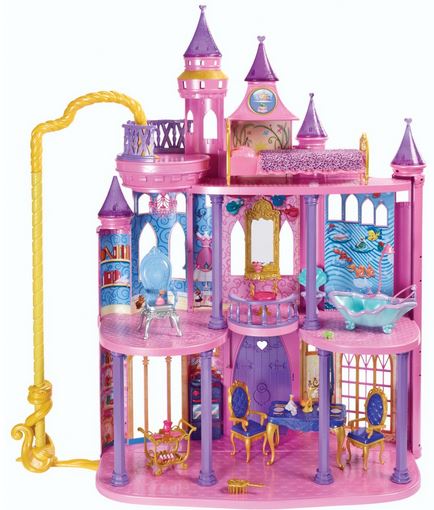 Smyths Toys has a flash sale on for 7 days with up to 50% off. There are 121 toys starting at £6.99 and going up to £149.99.  One of the sale items, the Disney Ultimate Dream Castle is £119.99 reduced from £199.99 and has free delivery. It's currently £149.99 at Amazon.
The Disney Princess Ultimate Dream Castle is a fairy tale come true. With three levels and seven play areas, this remodelled castle is the perfect home for your daughter's Disney Princess dolls (sold separately).
Plus, the new Disney Magic Mirror app brings each royal room to life with exciting interactive features.
The seven play areas are themed for the princess characters.
"Enter through the tall purple door and head to Snow White's kitchen, where you can "bake" delicious treats, or dine with friends in Belle's elegant dining area. On the second floor, visit Ariel's ocean-inspired bath with a seashell tub, Sleeping Beauty's vanity for primping playtime, and Cinderella's sewing room — the ideal spot to create the ideal dress. On the top floor, there's a tower balcony for Rapunzel to let down her hair and a beautiful bedroom featuring a magnificent, cosy bed for the sweetest princess dreams. Regal Elevator & Accessories Rapunzel's spiralling hair "elevator" connects the three levels, so friends can easily travel up and down. "
The set features 35+ play pieces. These include Lumière, Pascal, and Suzy Mouse, a dining table with two chairs, a golden food cart, a pink chandelier, and a blue-and-silver sewing chair. There's also a -currently free - interactive App for the house.
As one of the Amazon reviewers puts it  - it's not exactly an heirloom piece, but it should provide a little girl with many hours of fun.