Disney Story Books £5.93 @ BooksDirect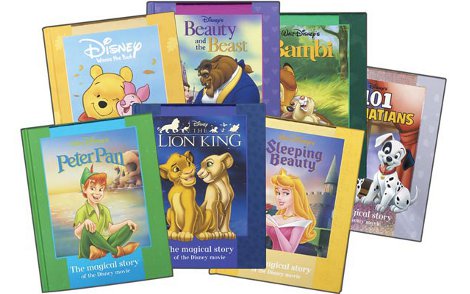 BooksDirect has a great sale on seven books from Disney films for £5.93, £15 off the original £20.93
This collection of seven enchanting Disney film adaptations from BooksDirect includes Winnie the Pooh on a visit to Piglet's house, where something quite unexpected happens.
There's the Lion King celebrating the birth of Prince Simba, the future king. Next is my personal favourite, Peter Pan and his adventures in Neverland with Wendy, Tinkerbell and Captain Hook.
Beauty and the Beast is still the original mesmerising and timeless tale, and Sleeping Beauty pricks her finger on the spinning wheel before falling into a deep sleep.
Cruella De Vil and the 101 Dalmations offer a thrilling adventure, puppies and all, and finally, the story of Bambi.
Postage is free on items over £5, so this applies - 7 great bed-time reads for just £5. Lovely.