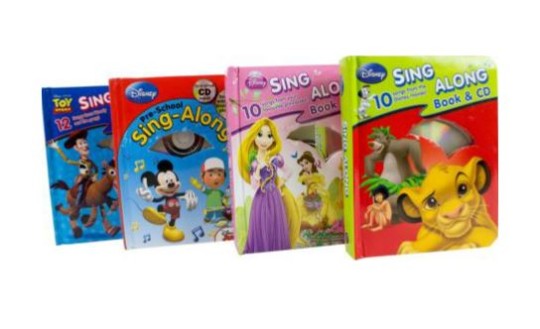 Argos have reduced four different Disney Sing Along Books from £4.99 to £1.99, saving you a fabulous £3, although it has previously been sold for £2.99, so still a saving.  They aren't available for home delivery, so you'll have to pick them up in store, but since you can't choose which ones you want to buy online, if you're buying multiple  copies, you can at least check them and swap if you can before leaving the store.
Okay, 'fess up if you've already started buying Christmas presents? If you are, I'm guessing these will make absolutely fabulous stocking fillers. They look brilliant, and while there's only one review on the site so far, it's a good one.
These CD's have 'over 20 minutes' of listening time, and they come with some fun look and see activities, making them a great gift and interactive participation activity, for example on long drives.  Little ones can follow the words in the book, then turn back to the start of the book as the CD plays the Disney songs.
You will only receive one book in the offer, so if you're buying multiples, make sure to check them before you leave!