Disney Princess Sparkle Snow White Doll £6.99 @ House of Fraser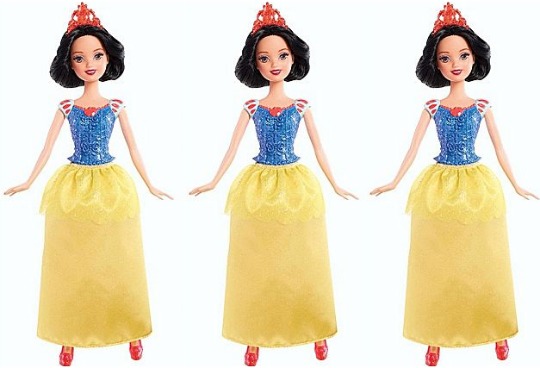 Does your child like Snow White? What's not to like about her with her sweet, trusting nature and her ability to get the animals of the woodland involved in the chores.
House of Fraser have the Disney Princesses Sparkle Snow White Doll for only £6.99. I cannot see this any cheaper anywhere. And I think it's a lovely version of this classic character. They have vamped her up a bit for this edition I must admit.
This Snow White doll comes dressed in her sparkle gown, with a gem necklace and a pretty tiara. Due to the small accessories, she is not suitable for under threes.
I once had a long Snow White gown that I wore for my friend's Disney themed party. Unfortunately, Snow White had a tad too much apple vodka and ended up in a rosebush.  I would like to add that this was in my silly, student days and my life is way too sensible (boring) now to act in such an irresponsible (fun) way.
Snow White, thankfully, is a much better role model for children than I. She is a kind soul and has seven dwarves that dote on her and let's face it she could get them to do whatever she wanted.
Collect this for free from your local House of Fraser store or pay £3 for delivery.