Disney Princess Ultimate Dream Castle £74.51 Delivered @ Amazon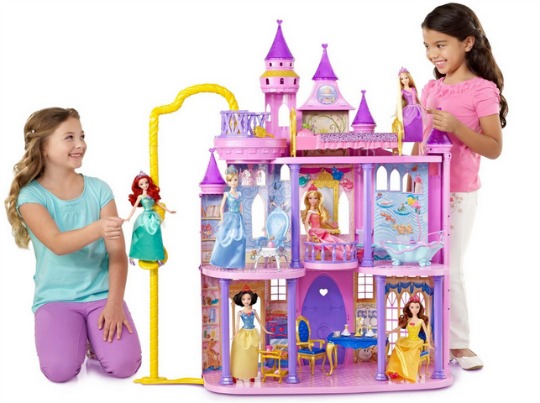 WOW! This has to be one of the biggest dolls houses I have EVER seen! Look at it! This Disney Princess Ultimate Dream Castle is made to accommodate those Barbie sized Princess Dolls. It is safe to say that it is HUGE. Normally, you would expect to pay between £150 and £200 but Amazon have reduced the price to just £74.51 with FREE delivery included. This is by far the cheapest I have seen this for.
The Disney Princess Ultimate Dream Castle is over three feet tall and will be the statement piece in any bedroom or play room. It comes in those trademark Disney Princess colours of purple and pink.
There are three levels and seven different play areas. It comes with over 35 play accessories too like Lumière, Pascal, a dining table with two chairs, a golden food cart, a pink chandelier, and a seashell bath tub.
This is jam-packed full of wonderful bits and pieces, plus each area is themed to a Disney Princess. To make things more interesting it can be used with the Disney Magic Mirror App too.
The price that this is at, I'd be buying this now and putting away for that festive occasion that we won't mention in July. Seriously, it's too good to miss.
Thanks to Gaminggirl @ HUKD