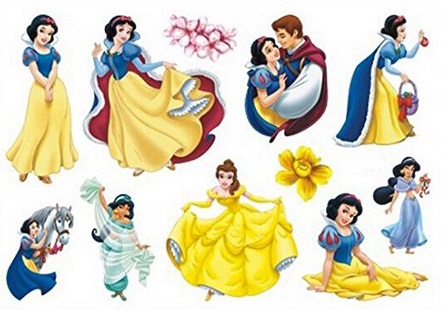 We've seen the Fairy and Pirate tattoos from Amazon before, but everything in my world is Disney Princesses right now (oh if my 19 year old Emo/Goth self could see me now!) and tonight I discovered and bought these 'Snow White' Tattoos for my daughter's 5th birthday. They are called Snow White, but they do also feature Jasmin, I suppose for those who don't like the animal-charming princess. Either way, at 42p delivered you can't argue too hard.
You get a sheet with 9 characters and two flowers on it, and since it lists card size as 5cm x 4cm, I'm under the impression that these are individually wrapped and 'various designs supplied' suggests its a bit hit and miss as to knowing what you'll get.
To use it you remove rhe clear sheet, and place the tattoo face down on skin, then wet the tattoo thoroughly with a sponge. After 20-30 seconds, gently remove the backing paper and allow the tattoo to dry.  To remove them you dab the tattoo with baby oil, then rub gently and repeatedly until removed.