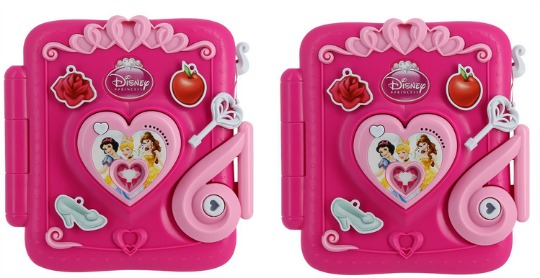 It's £17 @ Boots.com, the Disney Princess New Secret Book. Nip over to Very and you can get it for just £12 in their toy sale. Very are normally over priced when it comes to toys and to be honest 90% of their sale stock, still is. We found this gem though reduced from £17 and we think at £12, it's a good buy.
Disney Princess New Secret Book is a diary with a difference. It's very pink like all Disney Princess "stuff" and has a magical element to it. The secret book can be opened by the lock. Whatever is written in the book disappears after an hour or so, but fear not, use the magic light and you can reveal the hidden secrets.
Press the heart on the front for Disney Princess phrases. Batteries are included, so don't fret about that. If you have a child that is six years or above then consider this for Christmas. It will encourage them to write, albeit a load of rubbish probably. My eldest had a diary, and he showed me what he had written, and it was about how he was annoyed that he got the smallest pumpkin to carve at Halloween.
We are always keen to hear your stories, so if you have any funny stories then please leave us a comment below.