Disney Princess Play Kitchen £44.99 Delivered (With Code) @ Toys R Us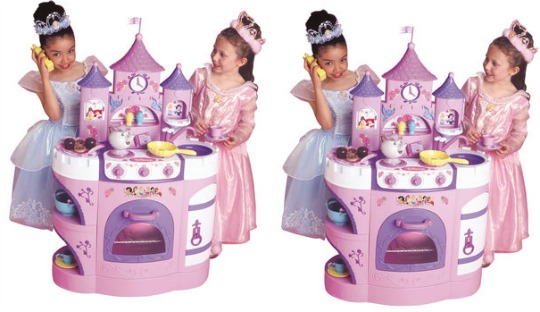 We know you guys are daft about Disney Princesses, and we know you are wild for play kitchens. Don't faint but we have found a Disney Princess Play Kitchen. What's great is that it's has loads of money off at Toys R Us. It was £119.99, then down to £59.99 and is now £49.99. Wowza! As if that wasn't good enough, heck no, we always look at ways to get things even cheaper. Enter Coupon Code BIRTHDAY7 and get an extra £5 off. A £119.99 kitchen for £44.99, and you get FREE delivery.
Was the Disney Princess Play Kitchen worth it's original price tag? It's certainly jam packed with heaps of features, like, it's realistic kitchen sounds and fun Disney Princess phrases. My favourite bit is that you get a Mrs Potts teapot from Beauty and the Beast, along with seventeen other accessories.
There's a frying pan, cups, plates, saucers, a phone, a recipe book and much more. The oven talks and the tap sounds like running water. It's also very appealing to those Disney Princess fans because it's very much in the DP trademark colours of pink and purple. It is very cute, and would no doubt be a nice addition to a little ones bedroom.
Get the Disney Princess Play Kitchen delivered for FREE as it is over the £29.99 threshold. Don't forget to use Coupon Code BIRTHDAY7 at the checkout to get this wonderful toy at this tremendous price. It's always worth a nosey over at our vouchers section, where you can find amazing discount codes/coupons for a lot of retailers.