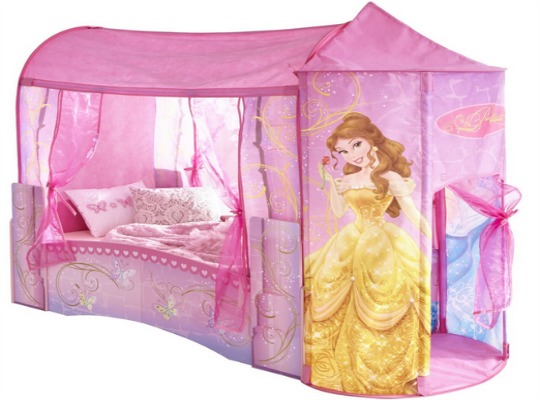 I WANT ONE! Look at this Disney Princess Feature Toddler Bed from Amazon. If you know a Disney Princess fan, show them this and I am willing to bed they would go bananas over it. This bed is normally no less than £150 and is often seen at £199. It can be yours for just £88.54 with FREE delivery. This is a BARGAIN, without a doubt.
The Disney Princess Feature Toddler Bed is a Four Poster Bed with a difference. It has a Turret at the foot of the bed that can be removed to use by itself as a freestanding play tent.
It is a toddler bed size and is made from MDF. You might want to enlist the help of your other half, as it is self assembly. It is recommended for children aged eighteen months to five years old.
Just imagine your little ones face if you put on of these in their bedroom. A dream come true for most, I bet. I really wish they had a boys version as I don't think you will have any bother getting your child to sleep with one of these.
We don't know how many of these are in stock at this great price, so I would get in there sooner rather than later.