Disney Princess Dress Up Dresses £7.99 Delivered (With Code) @ TK Maxx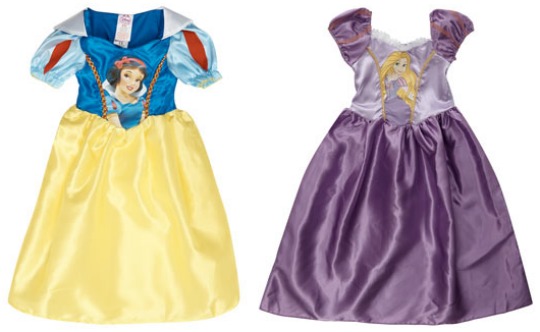 These sold out MEGA fast the last time TK Maxx offered FREE delivery. Sizes are limited, but have a look and you might just get lucky. For just £7.99, you can pick up one of these Disney Princess Dress Up Dresses. Plus, enter FDXMAS15 and save £3.95 as this promo code gives you FREE delivery.
You can choose Rapunzel which is a purple satin type dress, and only available in a size 7-8 years old. This is pretty and will sell out fast so if this is the size you need, then snap it up!
Merida is a navy satin type dress with gold trimming and fluted sleeves. Perfect for the rustic, Celtic sort of Princess. This can be bought in sizes 3-4 and 5-6 years old.
If you want the Cinderella dress, then I suggest getting it quick! Only one size is in stock and that's 7-8 years old. Her popularity never wanes.
If you have a Princess & the Frog fan then click here, and a pastel green/yellow satin type dress can be bought for £7.99.
These dresses are very popular and like I have stressed above, they do sell out fast when TK Maxx offer FREE delivery, so move fast to avoid disappointment.